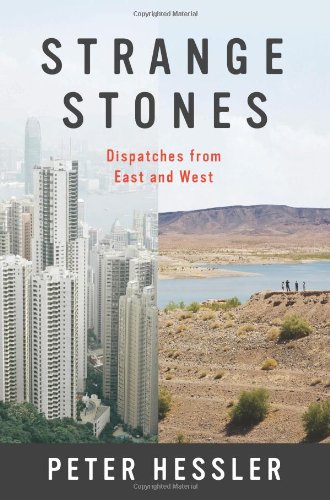 Full of unforgettable figures and an unrelenting spirit of adventure, Strange Stones is a far-ranging, thought-provoking collection of Peter Hessler's best reportage — a dazzling display of the powerful storytelling, shrewd cultural insight, and warm sense of humor that are the trademarks of his work.
An excerpt from Strange Stones:
This granary, like all the forts in the region, was surveyed in the early 1900s by Aurel Stein, the great Hungarian-British explorer and archaeologist.  He made two trips here, spending months with camel trains in the desert.  On his second journey he literally retraced his steps.  At one point he stumbled upon two sets of tracks, the prints of a man accompanied by a dog, and he realized they were his own — seven years earlier he had wandered here with his faithful dog Dash II.  He wrote, "Time seems to have lost all power of destruction on this ever-dry ground which knows no drift sand nor erosion."

I pitched my tent in the shadow of the fort.  A small stream ran in the distance, surrounded by marshland, like a thin ribbon of green tied taut across this parched landscape.  The sky was restless — fugitive clouds scattering across a dome of blue.  At midnight the gusting wind shook me awake.  It hummed across the Gobi, and whistled through the ruins, and I lay there listening to the same song that stirred soldiers in the days of the Han.
Purchase at
Amazon.com
|
Barnes & Noble
|
Indiebound
|
Powell's